Midwooder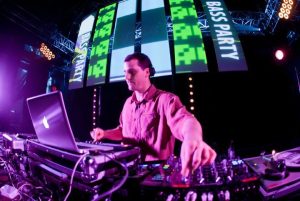 Midwooder aka Bomba Flex / Physical Records / Sono Pirate Unit
Midwooder alias Serafino Sebastien Born and raised in Roanne just a few km from Lyon (FR), brought to us via a the tekno rave movement in the 90'S, rocked by Acid house and tekno tribal sounds.
Midwooder is a DJ and producer who has shown us his talent and brings this to us on the forefront of the minimal techno seen, traveling all over Europe for gigs all over Europe (France,Italia,Spain, and Eastern Europe) for over 10 years now.
Allowing it to perform on stage alongside the biggest international live and Deejay's (Scan x, Phuture Traxx, Tomy DeClerque, Agoria, D'jamency ……)
As a DJ with a very eclectic style, all ways bring something extra to party, between minimal tekno , Electro, and vintage tek sounds , his time spent behind the decks are all ways remembered as dance floor grooving moments , thanks to his wild selection and technical force, his energetic style which he has formed throughout spiritual travels ….
Artist to the very core, all so working in collaboration to produce music for different labels: Physical Records , Izif Records,Sono Pirate Unit, No Sens Of Place , Junky Robot Rec ,Crossover Records,Chapati express,LW Recording, Oton , Black Pearl , Arret D'urgence Records,Music and meny others in the coming year of 2013…..
2009 he founded his own Label Physical Records vinyl exclusively distributed by Toolbox Paris. This label will present a new wave of artists Techno current
2011 Physical Records Label appears on every platform under the name Digital Physical Records Series
The rest to discover in music ….
Enregistrer
Enregistrer
Enregistrer